Our class blog has signed up for the Student Blogging Challenge that starts on September 8. We look forward to making connections with many other class blogs. I have added many of these blogs on our blog roll on the right hand side of the page. The top 2 blogs: 5SK Learning in North Qld and The Winning Huskies are blogs that we need to be visiting regularly and interacting with.  In fact we have already received a comment from 5SK!  The Winning Huskies don't start their school year until the week the blogging challenge begins!  I wonder if you can work out why?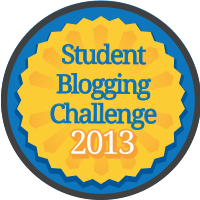 Another option in the Challenge is each student can sign up their individual blog to take part and connect with other students writing their own blogs.  If you would like to take part in this, you will need to visit this link and complete the form.  You can then see the other student blogs that have registered here.
What are you looking forward to with the Challenge?